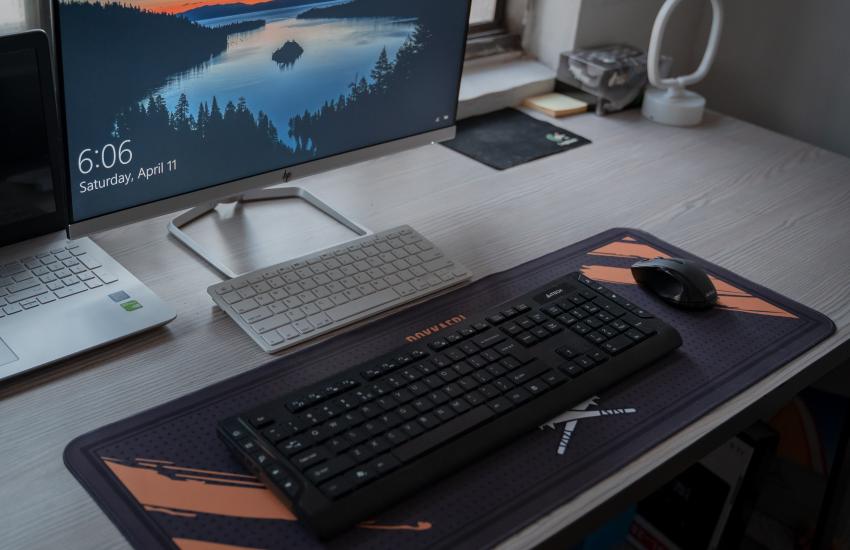 What is a Cloud Desktop
A cloud desktop provides you with a workspace to run your applications that is hosted on our servers instead of your physical PC. This allows you to connect to your desktop and run your applications from almost any Internet connected device. If your PC dies or your laptop is stolen you can simply connect from another device and carry on working because your applications and data are securely housed in our data centres.This is the modern, secure and flexible way to delivery computing services to your business.
How Do Cloud Desktops Work
Desktop virtualization allows users to access Windows desktops or applications that are running remotely. A desktop virtualization platform works by using a server that hosts the application or desktop that can be used by the user.
A server running in a data centre that has one or more instances of Windows running on it
In a desktop virtualization infrastructure, Windows instances are configured and users are assigned.
A gateway to secure access from outside the data centre. 
A device that can access a virtual desktop or application is called an endpoint. This can be a laptop, desktop, mobile device, a 'thin client, or even a simple browser.
A remote protocol through which video, audio, keyboard, and mouse data is shared between the user's endpoint and the desktop. 
Network Schematic of Cloud Desktop Solution (OpenDesk)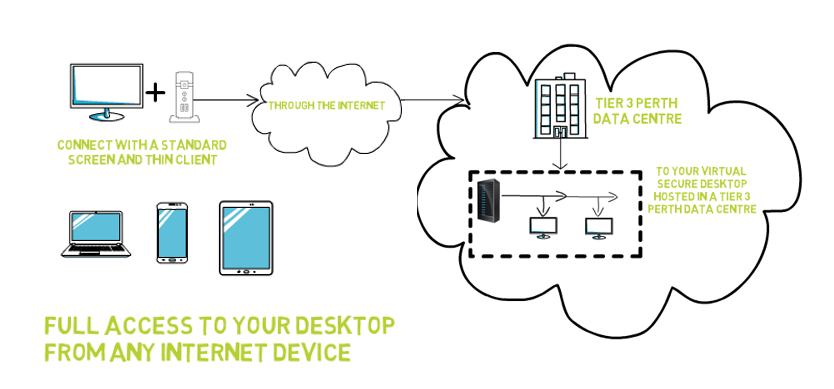 When you try to connect to your desktop, the remote protocol goes through the gateway and reaches the virtual desktop. It then routes your connection to the right virtual desktop or application.
What are the benefits of cloud desktops?
Virtual desktops are the future of work. They offer many benefits to both employers and employees. Virtual desktops are scalable, so it's possible to support multiple users on a single VM. Organizations can spin up new 'desktops' for employees rapidly without having to invest in physical computers.
Cloud resources are a key component of any organization. This reduces the need to buy expensive hardware and ensures that customers only pay for what they need. One pricing model for cloud desktops is consumption-based pricing. Not only does this make it easier for companies to manage their costs, but it also has a unique benefit: when resources are no longer needed, they can be turned off completely, meaning that customers are no longer charged.
The COVID-19 pandemic highlighted an urgent need for employees to work remotely. The ability to log in and access corporate resources from home or anywhere else is a major benefit to both employees and employers.
Here are some additional benefits that can be realized by utilizing cloud desktops: 
More productivity. Mobile devices and internet access have made working remotely possible. Employees can do their work from the comfort of their home, a cafe, or an airport lounge. Guaranteeing this access will lead to more productivity, efficiency and higher workplace morale.
It's all about saving! Cloud desktops are a wonderful way to save. As employees can access their desktop from any device, companies don't have to make CAPEX hits to the IT budget. Additionally, since heavy computing is done at the host, companies can extend the lives of their existing devices. Not only that, but IT support costs are decreased on a monthly basis.
Enhanced security. Cloud storage is the most secure method of storing information. If a device is lost, the data is safe because it's stored in the cloud. Broken or dropped devices used to access cloud-stored desktop files are not an issue, so there's no fear of data loss. Shoppers can freely browse on their mobile devices without fear of data loss.
Self-service simplicity. That's what cloud desktops offer. Rather than ordering a desktop from a manufacturer or reseller, your IT team can provision one while the employee is filling out paperwork and have it ready by the time they reach their desk.
Increased agility. Clients receive updates automatically and instantly, with no need to wait for a 'push' from the brand. From the user perspective, accessing their virtual desktop on any device means they can use any device to access the same applications and utilities, no matter if they prefer PC, Mac, Linux, iOS or Android, and it will all work in the same way.
If you are interested in learning more about how to implement a cloud desktop solution for your business or organisation, check out OpenDesk, our Perth based, private cloud desktop solution for SME's